Living in San Francisco: Commuting to Top Bay Area Workplaces
May 26th, 2017
Landed a job offer in the Bay Area? Congrats! Your head may already be spinning over how to find rentals within a reasonable distance to your new gig. Fear not, intrepid traveler, RentSFNow has you covered. Not only do we have apartments throughout the city near top employers, we have thoroughly researched commute options for some of the hottest companies throughout San Francisco and the Bay Area. We're here to help you find the right place to kick your feet up and call home.
As you might already know, almost all of the top companies with offices in San Francisco are located in or around Mission Bay, SoMa, and the Financial District. San Francisco has a robust public transit system that can quickly get you around town no matter where you live. The BART system runs through San Francisco and is often within walking distance to major businesses. Other transit options include the Muni system or buses. Depending on how close you live, walking or biking to work are other popular options.
Popular Companies in San Francisco
Financial District Employers:
Salesforce – 1 California St
Twitter – 1355 Market St #900
Cisco Systems – #1300 1 Bush St
SoMa (South of Market) Employers
Airbnb – 888 Brannan St
DropBox – 333 Brannan St
Google – 345 Spear St
Pinterest – 651 Brannan St
Splunk – 270 Brannan St
Uber – 1455 Market St #400
Zendesk – 1019 Market St
RiverBed Technology – 680 Folsom St
Yelp – 140 New Montgomery St
Lyft – 185 Berry St
Yahoo – 110 5th St
Intuit – 22 Fourth Street, 12th Floor
Dolby – 1275 Market St
AutoDesk – 1 Market St #500
Square – 1455 Market St #600
SoMa is a large neighborhood containing several smaller sub-neighborhoods such as Mission Bay.
Mission Bay Employers
Advent Software – 600 Townsend St
Adobe – 601 Townsend St
Zynga – 699 8th St
LinkedIn – 222 2nd St
Professionals working in the above areas who are on the lookout for a relatively easy commute should look at apartments in the following neighborhoods:
Finding San Francisco apartments with an easy commute
Other big employers, like Genentech, have offices throughout San Francisco and multiple transportation options. The company itself provides its own shuttle service to and from BART and Caltrain stations.
Commuting From San Francisco to the South Bay
What if you're living in San Francisco, but planning on commuting to the South Bay or Silicon Valley? There are still many commuter-friendly options for you to consider.
The South Bay (which encompasses Palo Alto, Mountain View, San Jose and more) is home to many job opportunities at top companies. Familiar businesses include Google, Facebook, Waze, Tesla and more.
For commuting from San Francisco to these South Bay cities, Caltrain is a popular option. Both BART and Amtrak meet up with Caltrain at various locations. Driving is also a common option and, while traffic will be daunting, it won't be as exhausting of a commute as if you were doing the reverse commute (to San Francisco from the Peninsula).
Living in Noe Valley would put you close to the 101 and 280 if you decide to drive. Apartments in Glen Park will give you access to both BART and the 280. You can also just catch Caltrain from areas like Potrero and Dogpatch.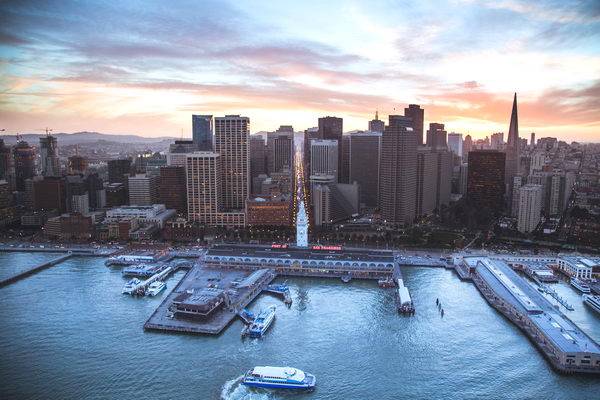 Photo courtesy of Jared Erondu
Commuting from San Francisco to the East Bay
East Bay Area cities, like Oakland, Berkeley and Emeryville are also a hot-spot for jobs. Oakland has many recognizable employers such as Pandora, Ask.com, Chevron, PG&E, and many well-known medical companies.
We're not going lie, commuting anywhere in the Bay Area can be a pain, but a reverse commute from San Francisco to Oakland is probably one of the easier ones. If you plan on lowering your carbon-footprint by not owning a car, BART has many stops all throughout Oakland and Berkeley. If you're working just outside of these cities in nearby Emeryville, hop on the free Emery Go-Round which picks you up from McArthur BART and drops you off at major destinations in Emeryville.
Residents living in the San Francisco Marina may prefer to hop on a ferry from the San Francisco Ferry Building (the South Terminal). The ferry will take you straight to Oakland's Jack London Square or Alameda's Main Street – plus you'll get to enjoy the foggy morning views of the city, or return home as the sun is setting off the Golden Gate Bridge.
One thing is for certain, residents of San Francisco never face a lack of transportation options. In true San Franciscan fashion, the entire Bay Area is very eco and public-transit focused. While traffic on the roads can be a pain, you can rest easy taking BART, buses, ferries, hailing a ride-share or more. At the end of the day, you can kick back and enjoy your San Francisco home sweet home.