San Francisco's 7 Best Parks to Live Near
April 15th, 2019
Many assume when moving to an urban city that they have to sacrifice green spaces and parks for city living. Fortunately, that's far from the truth when living in San Francisco.
San Francisco is the first and only city where 100% of its residents are within ten minutes or less walking distance to a neighborhood park, according to The Trust For Public Land — a non-profit dedicated to creating public parks.
Being able to live walking distance to parks and other activities of interest is key to one's happiness and a factor many consider when moving to a new city or neighborhood. "Most city residents won't walk more than 10 minutes to get to shopping, transit, or parks, so close-to-home access to parks is vital for public health, clean environments, and thriving, equitable communities," says Adrian Benepe, the Urban Director of the Trust for Public Land.
With over 220 San Francisco parks and open spaces, it's been almost impossible to know which parks are the most desirable to live near. Until now! We're here to help you make the decision a little easier. Here's our selection of the most desirable San Francisco parks to live near: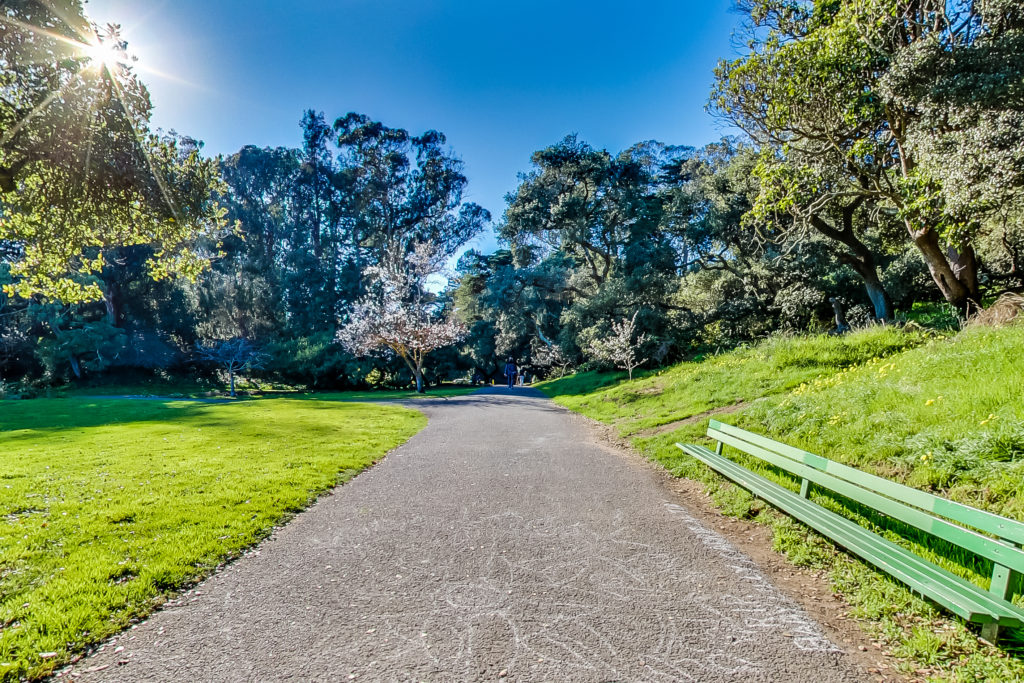 Golden Gate Park
One of the most visited parks in the nation, Golden Gate Park is a huge rectangle park that separates the Sunset and Richmond Districts and has something for everyone. Most are familiar with the museums and annual music festivals like Outside Lands and Strictly Bluegrass, but there are so many hidden gems in this park that spans over three miles.
Visit the casting pond to perfect your fly-fishing skills, play a game on the disc golf course, enjoy a romantic paddleboat ride at Stow Lake or if you have kids take stroll on one of the many walking trails or head to the carousel for a day of fun.
Image courtesty of torbakhopper
Dolores Park
Hanging out at Dolores Park is undeniably part of the authentic San Francisco lifestyle and the place to be most weekends. 
Located in the sunny Mission District and close to many of the city's top restaurants and bars, Dolores Park is a pet-friendly park where you can catch free outdoor movies in the summer, people watch, hang out drinking with friends or even join a group playing the drums.
As this park is always packed and parking is difficult, living close by has its benefits and on't be surprised if someone offers you cannabis edibles (though we hear the Dolores Park Truffle Man has gone legit and is no longer making his rounds).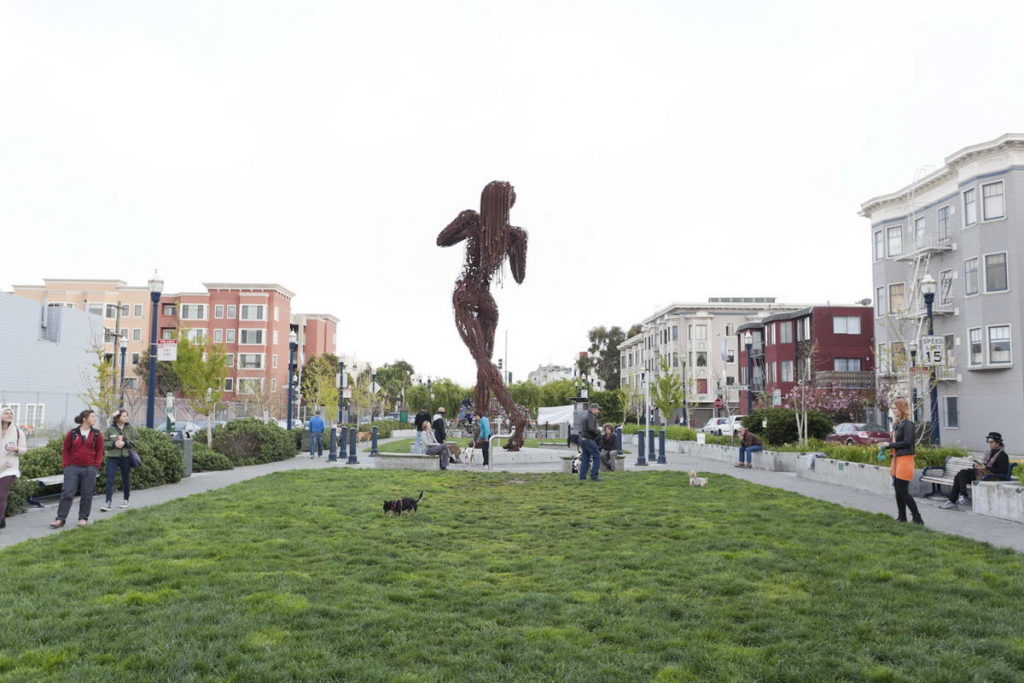 Alamo Square
Want the feel of Dolores Park but less people? Alamo Square Park near Hayes Valley and Pacific Heights is another pet-friendly park with a dual-level playground, walking trails, and tennis courts and is a great alternative. Don't be alarmed by the influx of tourist dashing by to get a selfie in front of the Painted Ladies made famous by the sitcom "Full House." Don't worry, they never stay long.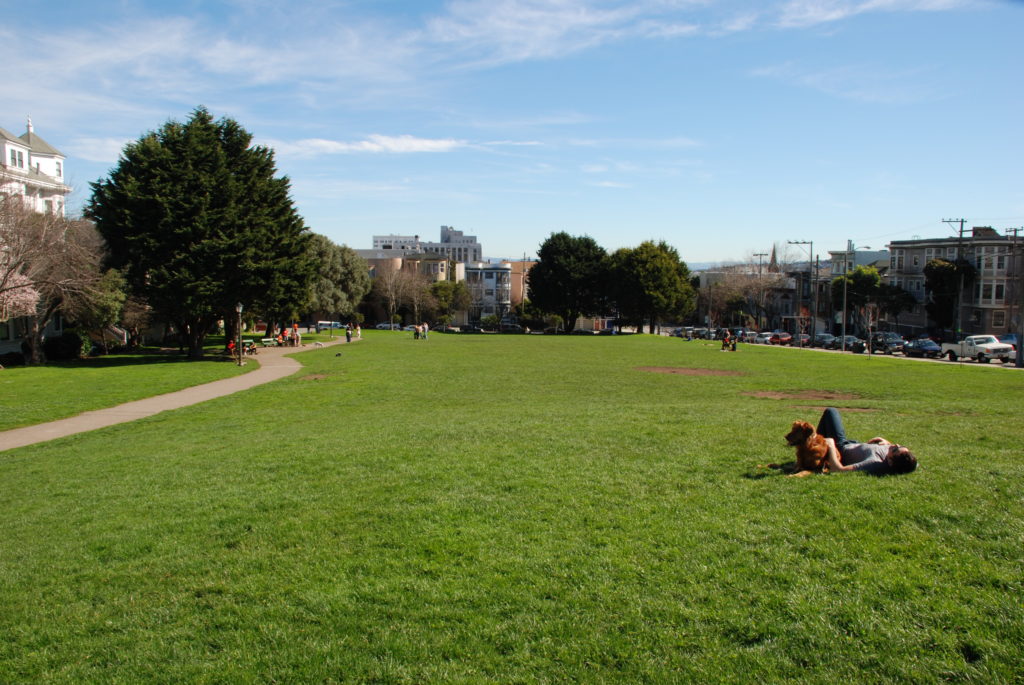 Duboce Park
Once a tent city after the 1906 earthquake, Duboce Park is a dog parent's dream park. Known for its popular dog play area where leashes are optional, the city eventually designated a portion of the park for 'people only.' This lively community park is also the home of the newly renovated Harvey Milk Recreational Arts Center and the Scott Street labyrinth.
Patricia's Green In Hayes Valley
Founded in 1999, this urban park is the central hub of the Hayes Valley neighborhood and a great meeting point for friends. This space is host to a rotating art exhibit and park benches where you can find people playing chess or parents watching their kids play on the playground.
Make sure to stop by the Proxy project, a car-parking lot that has transformed into a people lot with outdoor movies, Ritual Coffee, Smitten Ice Cream, the Biergarten and more. Another bonus about Patricia's Green park: it's right next to the trendy shops and some great restaurants in the neighborhood.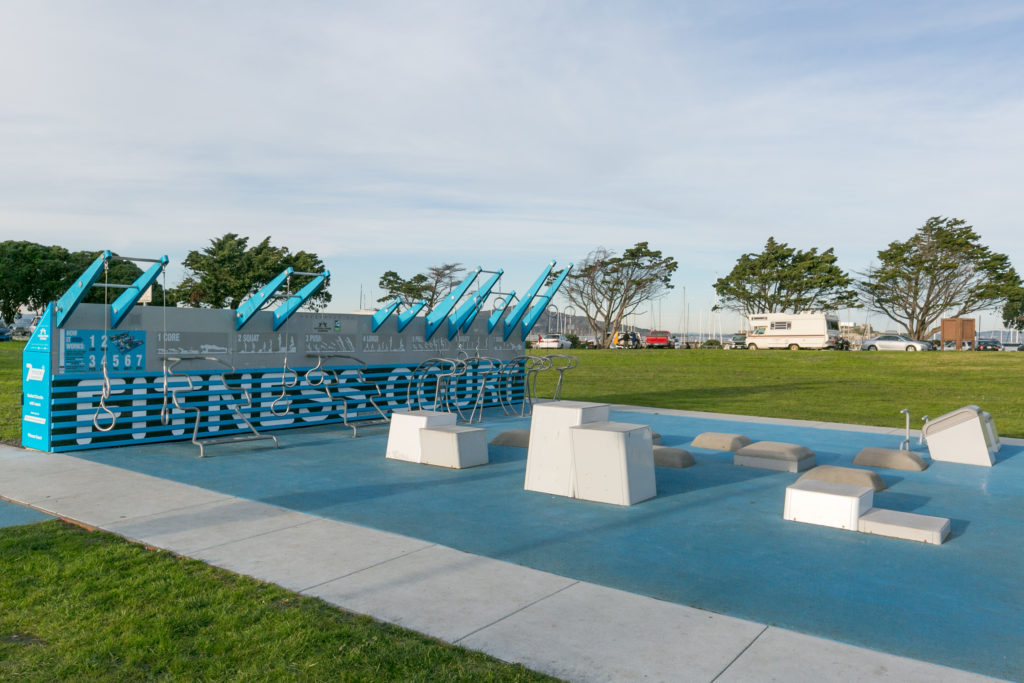 Marina Green
Located in San Francisco's beautiful Marina District, the Marina Green runs between Fort Mason and the Presidio.  Boasting views of the Golden Gate Bridge, Alcatraz, and historic homes, the Marina Green is perfect for reading a book or a casual picnic. It's also a popular hangout for runners and athletes wanting to use the outdoor exercise equipment.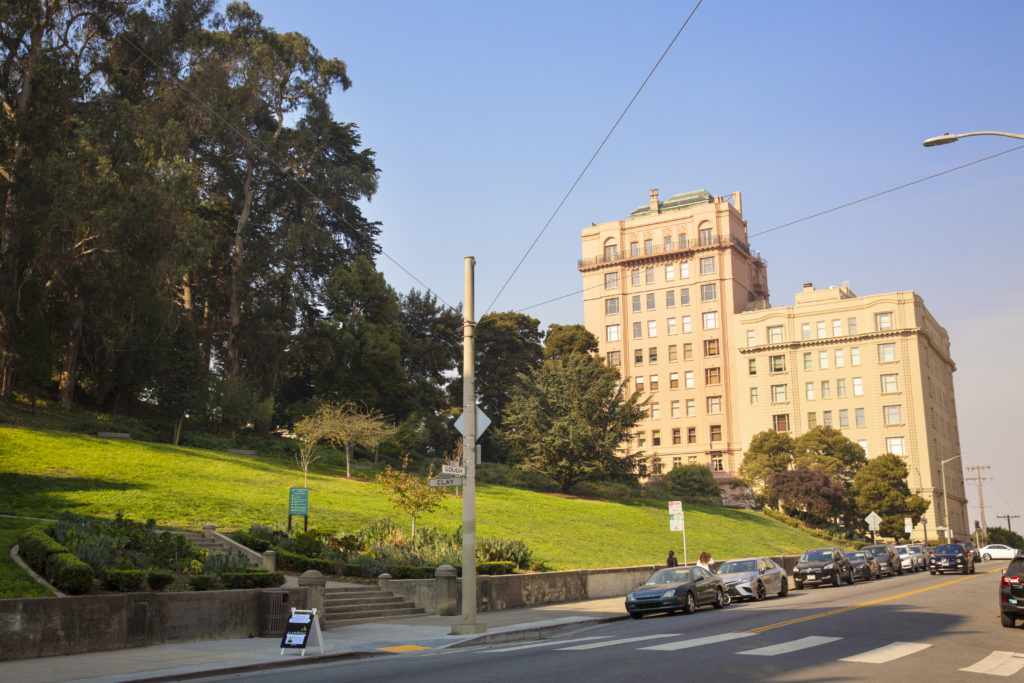 Lafayette Park
This hilly park based in the Pacific Heights neighborhood with stunning views of the city and the bay also happens to be where refugees of the 1906 earthquake watched the city burn in the fires following the quake. Nowadays, it's where Pacific Heights residents can go to relax and enjoy a casual day at the park, play tennis or bring their dogs to the off-leash dog play area. 
Other Interesting Facts About San Francisco Parks
Dolores Park was a cemetery before it became a park. It became inactive in 1894.
South Park, built in 1854 is the oldest park in the city. Cate Blanchett made it famous in the movie Blue Jasmine.
In 1890 John McLaren, the Golden Gate Park designer, added a free-range zoo that was home to elk, bears, goats, and buffalo. The California state flag is based on a grizzly bear once kept here.
Buena Vista Park, a 589-foot slope, was originally named Hill Park; that must have been hard to come up with! It was the prime spot for people to watch the 1906 fires.
The list of San Francisco parks continues to grow and is one of the many things that makes this city one of the top places to live. Be sure to add park proximity to your list of "must haves" when searching for your next apartment in San Francisco.
Cover image courtesy of Jeffrey Zeldman