#TogetherSF
April 21st, 2020
Are you considering a move to San Francisco? You may already know about the rich culture, amazing architecture, spectacular views and foggy weather, but did you know it's the people that make this city?
Since the March 16th shelter-in-place orders were issued, the people of San Francisco have banded together to show the world what it takes to be a great city. With empty hours and full hearts, neighbors are reaching out to bring assistance and solace to those who call the Bay Area home. The common desire to flatten the curve has kept everyone indoors, but that hasn't stopped a few locals from defining what it means to be uniquely San Franciscan.
Neighbors near 2238 Hyde share hope and inspiration.
Within the first week of shelter in place, San Francisco residents Kanisha Cheng and Griffin Gaffney created a non-profit that allows people to do just that. TogetherSF is a platform for mutual aid – connecting people who need support with neighbors who can provide it. Kanisha and Griffin decided to start this non-profit as a way to channel their anxieties into a positive force for those who are most vulnerable in their community.
TogetherSF connects volunteers (who are mostly working-from-home residents in San Francisco) to senior residents that need help with obtaining basic essential items. Not only do they offer assistance for fresh groceries deliveries and pharmacy pick-ups, they also offer phone call sessions for those who are feeling isolated.
Another San Francisco effort called SF New Deal was developed with a goal of "keeping small businesses in business" while also serving San Francisco's most vulnerable residents. The non-profit focuses on helping restaurants stay afloat by paying for meals and then donating them to hospitals and other San Francisco based organizations. This supply chain helps restaurants pay local farms for their ingredients while also providing paychecks to kitchen staff and building community within the City. According to the SF Chronicle, SF New Deal had 30 participating restaurants and served 4,300 meals within the first two weeks of starting.
Residents in RentSFNow buildings are showing solidarity during these uncertain times with small acts of kindness.
Koren Alexander, resident at 795 Pine, used Post-in notes on her apartment window to share love and joy; and neighbors immediately responded with reciprocating hearts. "We are all in this together!"
A long-time resident at one of our Nob Hill buildings anonymously left some hand soap in the lobby to share with neighbors. This inspired others, including the resident manager, to do the same and pay it forward.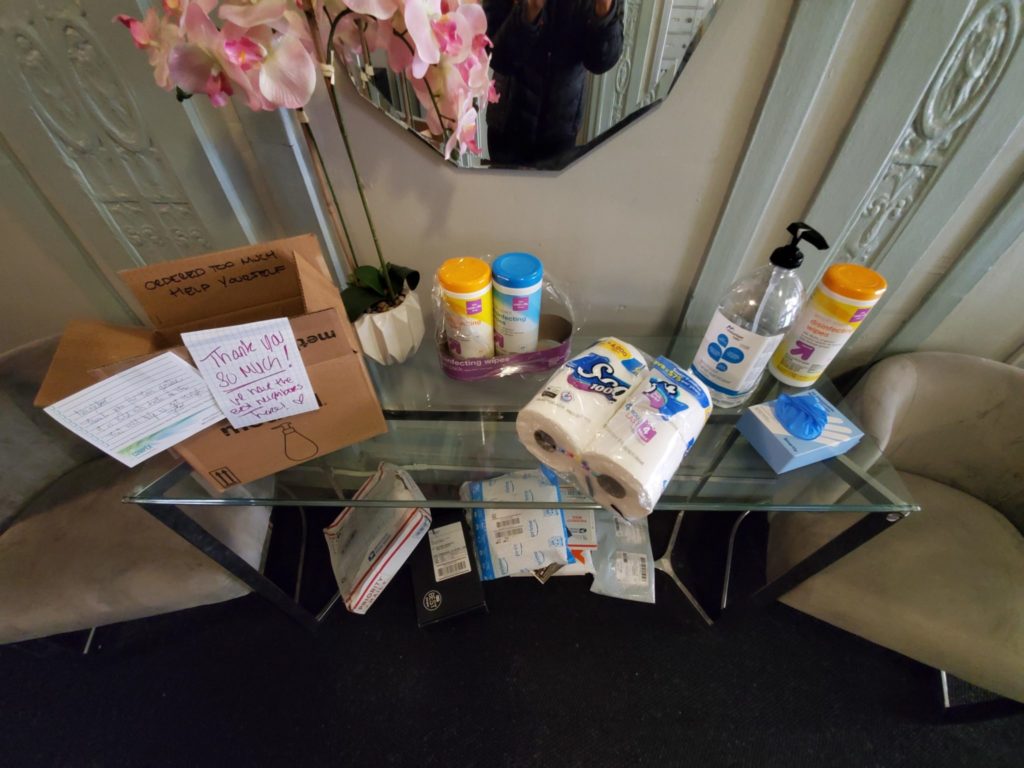 Although our city can feel big and lonely especially during times like these, seeing people come together for the greater good reminds us why we moved here in the first place. San Francisco is truly a one-of-a-kind place, and it's people are at the heart of it all.