RentSFNow Helps Bring the Golden Super Bowl to the Golden State
May 17th, 2016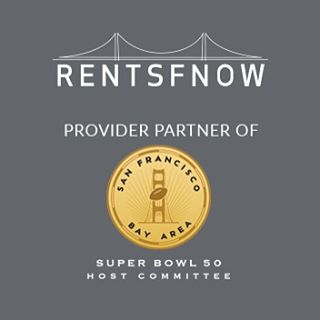 The Super Bowl—America's most watched television program in history—goes far beyond a three-hour annual event, and it certainly has much more going on than celebrating American football. In fact, the event can be viewed as merely a backdrop for a cultural affair that is distinctively American.
Surrounding the game itself there are the parties, the advertisements, the events, the planning, the entertainment, the food, philanthropy and of course, a look at the city itself that's hosting it. This year, San Francisco proudly hosted a very special Super Bowl, the 50th Golden Anniversary.
1.9 million locals and visitors attended Super Bowl events in the Bay Area this year, resulting in a significant influx in tourism and boosts in San Francisco businesses. Hotel and Airbnb prices skyrocketed, some in the range of $700 per night. In addition, it was hard to fit everyone into the small confines of the 46.9 square mile city, the smallest county in the state.
To help, RentSFNow partnered with the Super Bowl 50 Host Committee, and provided a number of its furnished apartments for out-of-towners to give them a local and historical taste of the city. Specializing in classic buildings with updated interiors, RentSFNow aims to keep the best of San Francisco intact, and with this deeply rooted DNA ingrained in the walls and bricks of the buildings, they were able to give visitors a real San Francisco experience, instead of simply holing them up in a generic hotel, while also helping to make the Super Bowl experience run smoothly.
Recorded as one of the most successful Super Bowls to date, being the third most watched game in television history, RentSFNow was proud to be a playing part. In addition to the Super Bowl, Veritas Inv., the umbrella company of RentSFNow, is an organization that constantly strives to make San Francisco's neighborhoods as strong and inclusive as possible. It also actively supports community groups and other nonprofit organizations, such as Bay Area Council, Hong Kong Association of Northern California and Self-Help for the Elderly, among others. According to the Host Committee, Bay Area non-profits received $13 million from the 50 Fund, making Super Bowl 50 easily the "most giving Super bowl ever".
"It's been our goal from the beginning to redefine the Super Bowl, and I believe we've done just that," said Keith Bruce, CEO of the Host Committee in a recent press release. RentSFNow continues to work to help locals and visitors find a home in San Francisco.