Preparing for Natural Disasters
September 23rd, 2019
Natural disasters are inherently unpredictable and can have devastating consequences for any community. While the prospect of an earthquake, fire, or other type of disastrous event can be scary to think about, advance preparation goes a long way towards alleviating our fears and keeping us, members of our households, and our neighbors safe in the event of an emergency. In the spirit of National Preparedness Month, here are some tips to ensure you won't be caught off guard.
Prepare a Kit
No matter what the situation, it is important to have a household supply kit in case of emergency. This includes a portable go-bag with roughly three days-worth of supplies in case of an evacuation, in addition to a more substantial kit. Each kit should be customized for the personal needs of each member of the household, as well as disasters common to your area, and refreshed once per year. Basic supplies include:
Food and Water
One gallon of water per person, per day
Nonperishable food items that are easy to prepare without electricity (including for pets and babies, if applicable)
The Red Cross recommends at least three days of supplies, with two weeks-worth being ideal
Check regularly for freshness
Light
Flashlight
Two extra sets of batteries
Heat
Blankets
Warm clothes
Sturdy shoes
Communication
Portable radio; battery-operated or hand-crank
Extra batteries
Mobile phone and charger
First Aid/Medication
Basic first aid kit (including antibiotic ointments, bandages, scissors)
Medication; prescription and non-prescription
Glasses
Hygiene
Toiletries (soap, toothbrushes, toothpaste, toilet paper)
Sanitation wipes
Hand sanitizer
Feminine hygiene products
Money and Documents
Cash ($100, if possible) and credit cards
Copies of IDs, medical records
Physical map of your area
Comfort and Entertainment
Family photos
Games or playing cards
Toys for children
Reading material
Make a Plan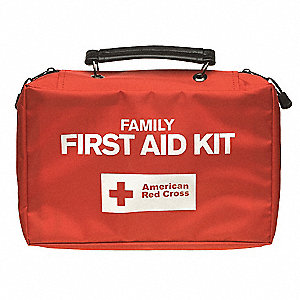 A proactive approach makes all the difference in the event of a disaster. First, it is important to consider the type of disasters most likely to affect your area – in San Francisco, the city's Department of Emergency Management lists earthquakes, tsunamis, fire, and severe storms as hazards to consider – and plan accordingly. The US Department of National Security recommends answering the following questions to get started:
How will I receive emergency alerts and warnings?
What is my shelter plan?
What is my evacuation route?
What is my family/household communication plan?
Next, it's time to set up an emergency plan tailored to your household's specific needs and location. Factors to contemplate include:
Settling on an exit strategy – know how to leave your home and locate emergency exits
Agreeing on a central meeting point
Establishing an out-of-town emergency contact
Determining ways to communicate if you or a household member are unsafe
Remember to consider pets in your plan – if it's not safe for you, it is not safe for your pet. Pet owners should include the following supplies in your emergency kit:
Sturdy leashes or harnesses
Food and water
Current pictures (in case of separation)
Medication
Once you have formulated a plan, be sure to practice it with all household members (including pets).
Stay Informed
Knowledge is power in the event of an emergency, and even a little bit goes a long way. Our employees have refreshed their knowledge through a variety of events, including a safety workshop for Resident Managers and a company-wide presentation from the Red Cross on individual preparedness. Earthquakes, fire, and other calamities may not be in our control, but having the tools to respond is. A proactive approach to disaster preparedness means less stress and a safer response to situations out of our control.