The Rebirth of a Building, and a Neighborhood
February 7th, 2017
Whether you call it the Tenderloin, Tenderloin Heights, Upper Tenderloin, Lower Nob Hill, or even Tendernob, this general area near Union Square and the Theater District has seen good times and bad. It's one of the city's oldest neighborhoods and residents here are proud of the character and diversity, thought it hasn't always been the prettiest or the safest. There's a rich history here dating back to the Gold Rush days, and over the years it's been known for theaters, speakeasies, gambling halls, nightclubs, and hotels. Over the past several years, it's seen a rise in popularity due to its location, walkability, restaurants, and music venues.
Most of the buildings in the neighborhood were destroyed in 1906 due to the earthquake and fire, but many were rebuilt in the following years. 540 Leavenworth was built in 1914, and by all accounts it was a spectacular structure—a five-story Edwardian with commanding views. But over the years it fell into disrepair and by the early-2000s it had become something of an eyesore in the neighborhood.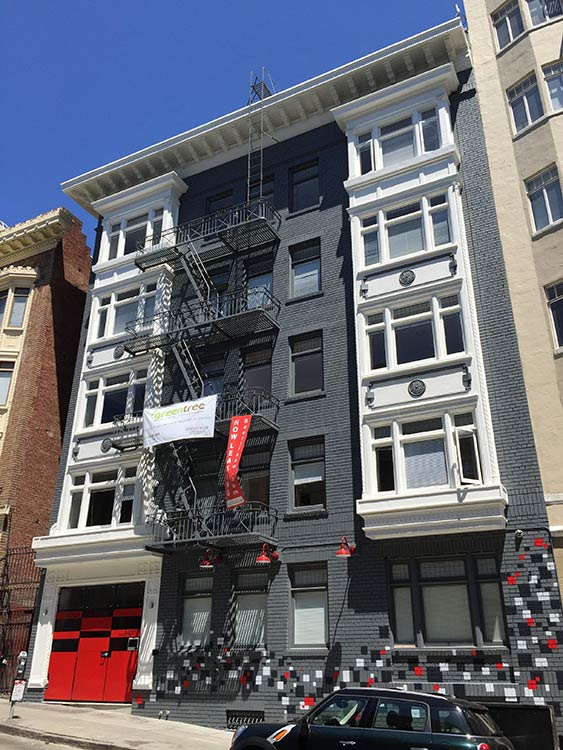 A Major Fire
On June 29, 2012, a three-alarm fire displaced 66 residents and caused over $1,000,000 in damage. Every resident displaced by the fire was invited to move into another apartment and afforded the opportunity to move back into 540 Leavenworth upon completion. Major renovations were needed to return the building to its original glory. The construction team and property management teams (Unicorn Consulting and Greentree Property Management) made a series of creative decisions as to how to best resuscitate the treasured Edwardian structure while introducing 21st century features.
An Exhaustive Renovation
Every apartment in the building was gutted and remodeled, adding instant hot water heaters to each unit as well as in-unit washer/dryers to most units. A 1,000 square foot rooftop deck was added to the building, as was a dog run in the rear yard. In underutilized areas, a yoga room, tv/entertainment room, storage rooms, bike storage, and game room were also added. Every unit configuration/layout was improved—efficiency units were converted to studios, studios were converted to 1 bedrooms, and 1 bedrooms were converted to 2 bedrooms.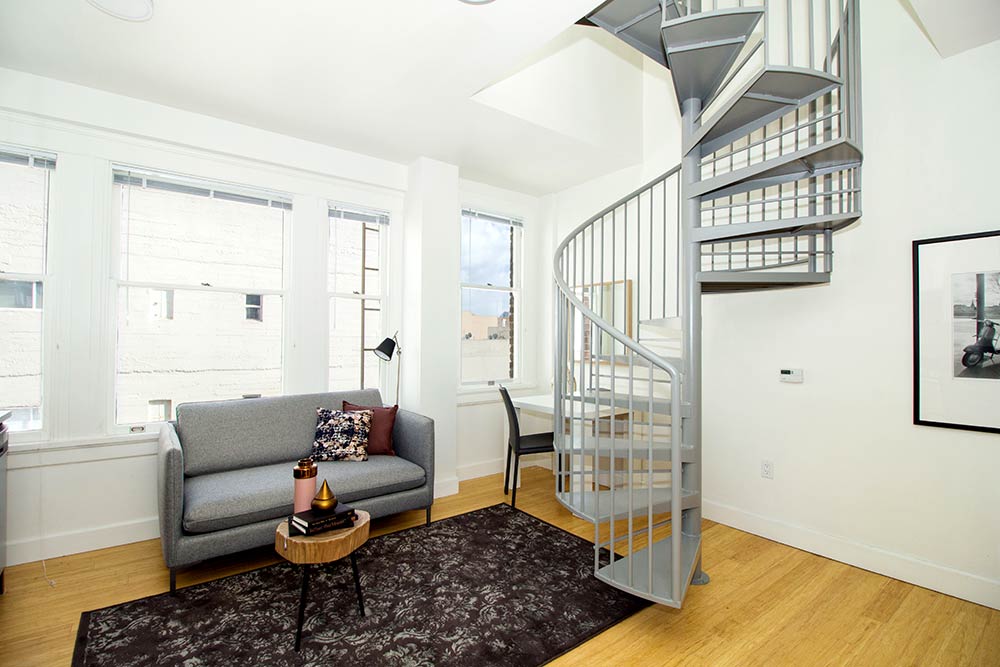 New Life
Finished and re-opened in June of 2015 as the Element Apartments, it has been brought back to life for displaced residents now able to return, as well as for new residents. The latest technological advances were added along with the new spaces, making this one of the premier properties in the area. A modern entry system enables residents to talk with and see their guests on their smartphones, and the periodic table-inspired design of the foyer is one of many modern/industrial design elements within the 100-year-old historic building. 540 Leavenworth's original brick exterior surrounds a contemporary entry gate, offering a hint of the renovated interiors. Hardwood floors, exposed brick, stainless steel appliances and pre-wired in-residence tech make it feel contemporary and comfortable. Residents enjoy their in-building exercise and media room. Now they can watch the sunset from the rooftop terrace. And the dog run comes in handy for those foggy nights when their best friend doesn't feel like venturing out too far.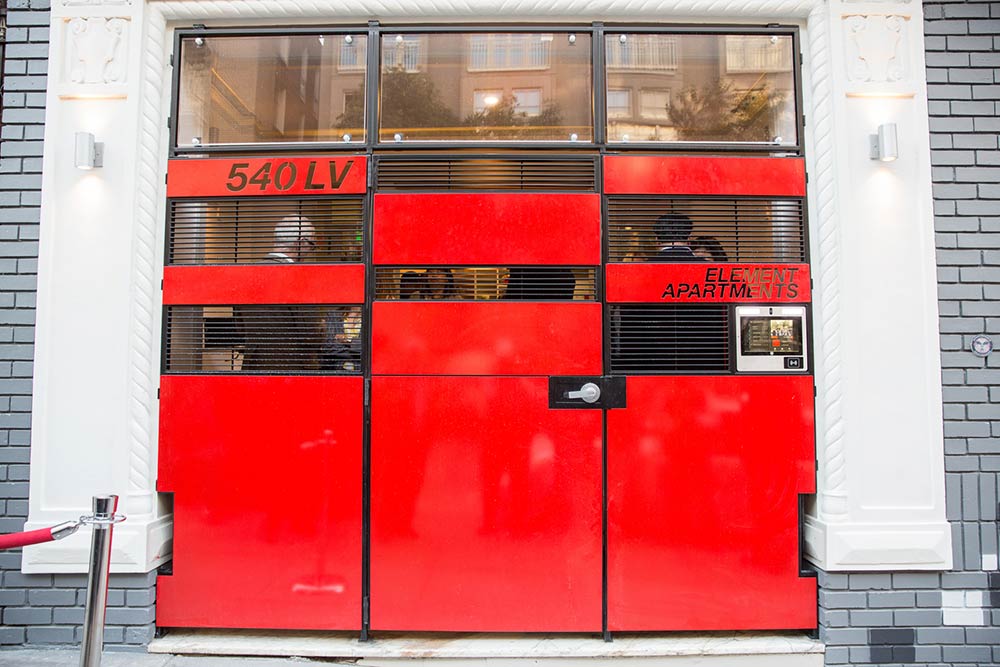 In this up-and-coming Lower Nob Hill/Tenderloin area, 540 Leavenworth stands as a symbol of what can be done with an aging landmark, and it chronicles and celebrates the area's fascinating diversity of people, businesses, and rich history. The ever-changing landscape includes plenty of new additions: the tiny but popular Elephant Sushi on Geary. Mensho Ramen, a bustling Ramen shop that had three locations in Japan before choosing San Francisco as their first overseas location. There's also Onsen, the trendy Japanese-inspired bath house and restaurant, and Black Cat, a jazz-focused and loungy restaurant.
Right at home near the heart of it all, the Element Apartments at 540 Leavenworth is a night owl's, Metro sapien's, and commuter's dream.