Monarch Butterfly Researchers Need Your Photos
March 31st, 2020
The Western monarch butterfly's life is a story that every California school child knows: After wintering in Monterey County and other spots along the Central Coast, the regal insects fan out to breeding grounds in the Central Valley and beyond.
But there's a monarch mystery: No one is certain what happens to the butterflies during the spring when they fly inland from the coast, and why their numbers have dropped precipitously since the 1980s.
That has puzzled researchers trying to determine where monarchs are during the gap, and they're enlisting the public's help solve the puzzle.
The Western Monarch Mystery Challenge is the brainchild of a group led by Washington State University Professor Cheryl Schultz. She said her team is asking the public to send pictures to monarchmystery@wsu.edu or upload shots to the free iNaturalist app. Entries should include where the photo was taken. The contest runs through Earth Day (April 22), and more than 200 entries have been posted so far. Weekly winners receive REI gift cards and gear, among other prizes.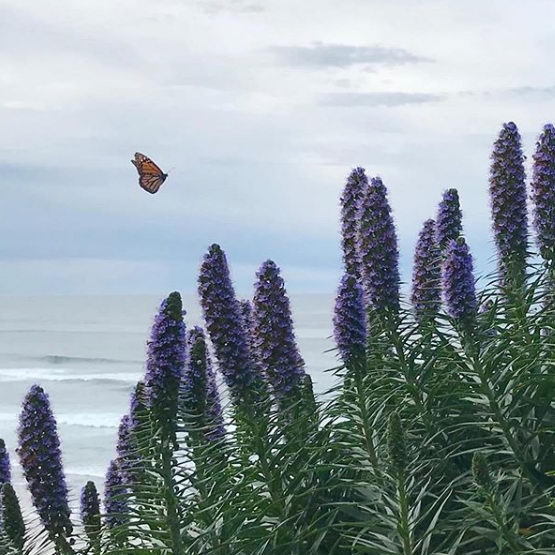 Washington State University
This winning photo entry in the Western Monarch Mystery Challenge was taken in Half Moon Bay.
"It's a great thing to do for families," said Schultz, noting that photographing monarchs is an ideal shelter-in-place activity that can be done from San Francisco apartment windows or during urban walks.
The monarch's large size makes them easier to spot and photograph, said Schultz, adding that the photos need not be "perfect" and that the subject can occupy even just a small area of the shot.
The spring disappearance is under examination in part because of the species' precipitous decline. The iconic creatures numbered about 4.5 million during winter counts in the 1980s but their numbers have dropped to around 29,000 in 2019, according to the Xerces Society, a preservation group that conducted the survey and is sponsoring the challenge with Washington State, Tufts University and the University of California at Santa Cruz.
So far, the data has produced no definitive conclusions, but Schultz said the group will examine the numbers after the challenge ends.
The Xerces Society has partnered with several organizations to promote habitat preservation for pollinators. One of the most significant partnerships has been with RentSFNow's parent company, Veritas Investments, which 'hosted' a 50-foot-tall butterfly mural on the side of its San Francisco apartment building as part of artist Jane Kim's Migrating Mural project.
"The Western Monarch Mystery Challenge is a perfect way to get outdoors in these challenging times, to help the project and get some exercise," said Jeff Jerden of Veritas. "Plus, parents can teach their children about monarchs."
Cover photo courtesy of James Wheeler