Free Yourself in a San Francisco Workspace
August 17th, 2018
San Francisco is home to a wide variety of unique co-working spaces. These range from one-of-a-kind outdoor parks that are perfect for meet and greets to expansive interior settings that you can drop in for meetings or distraction-free concentration time as needed. Many of these also offer intimate workspaces for groups of 10 or more, offsite retreats, or community meet-ups.
This guide will help you uncover the cities' best offerings no matter what your needs may be. We've left out the widely known co-working spaces that are frequently recognized for monthly or ongoing memberships. This includes WeWork and Galvanize, headquartered in New York City and Colorado respectively. These popular lifestyle and community spaces typically attract multi-month tenets and offer locations in other cities.
Although both offer options that can be a valuable asset to new or scaling startups, San Francisco's lesser-known local, community spaces offer an abundance of opportunities and are free to use. The following recommendations will help you identify the ideal ones to work and scale your idea, business, or community project like a local:
Indoor Spaces
---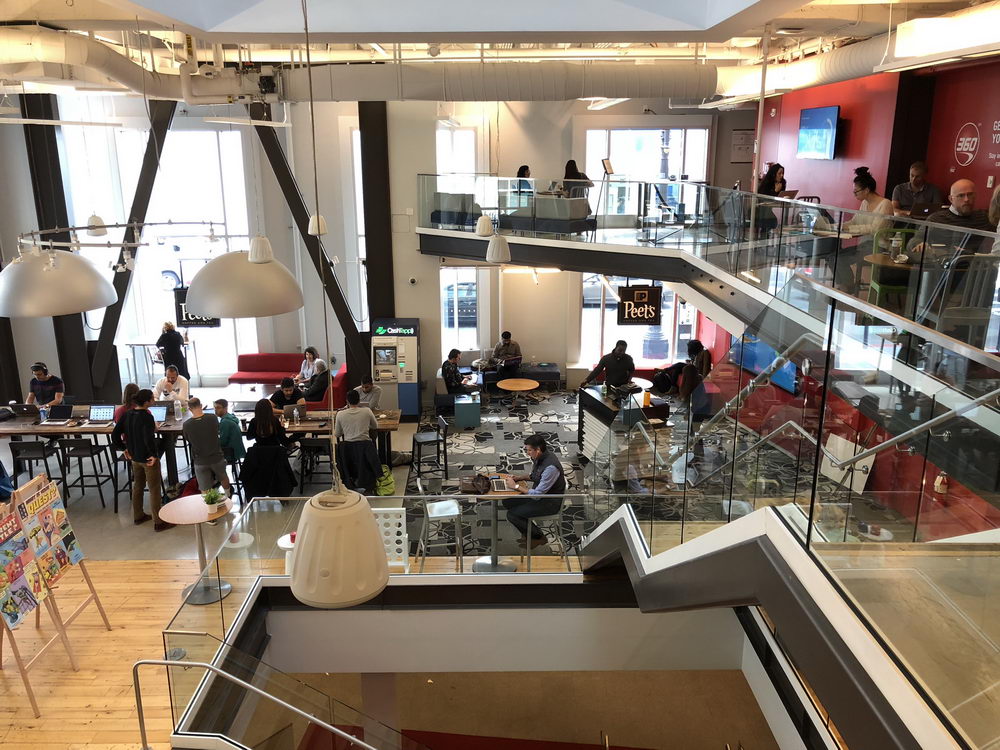 Photo courtesy of Jared Fallon
This three-story workspace boasts large community tables on the first two floors and a beanbag station and conference rooms in the basement. It's located in the heart of the Financial District (FiDi) and offers free community events, Wi-Fi, and a variety of refreshments from Peet's Café, located on the ground floor.
Locals will tell you it feels more like its own community given the number of regulars who frequent the café. Aside from a few employees sporting Capital One Polo shirts, the only way you'll be reminded it's operated by Capital One is through the occasional financial literacy or smart spending class that's open to the public. There are anywhere from 15-30 of these offered per month and don't interfere with the most popular areas where people work.
Pro tips: If you pay for coffee or tea with a Capital One credit or debit card, you'll receive 50% off every time. This café also offers private conference rooms available by reservation.
LinkedIn's Open Workspace
Located at 222 Second Street, the ground floor lobby of LinkedIn's San Francisco office provides a minimalistic interior open to the public. This 8,700-square-foot enclosed space, with operable floor to ceiling windows, features an Equator Coffees & Teas and public Wi-Fi. In addition, it's one of the best locations in the city to find original Frank Stella art without paying for admission to SFMOMA.
Pro tips: Compared to many Privately Owned Public Open Spaces (POPOS), this workspace is rarely crowded, and Equator offers some of the best quick bite options around including grab-and-go salads and hot quiche.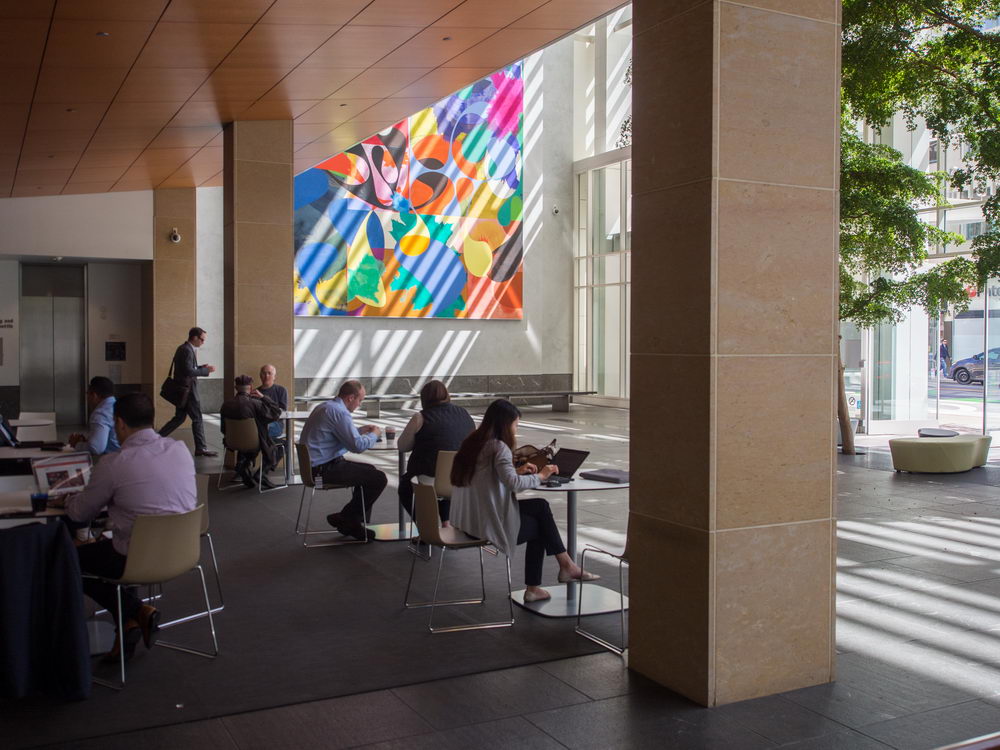 Photo courtesy of Eugene Kim
The indoor park at 101 Second Street is a popular San Francisco native's favorite FiDi meeting space. This bright, multistory atrium includes many seating options, trees, and art. On warm days, you'll find the glass walls retracted, creating an inviting, open environment to ideate. This location doesn't offer its own Wi-Fi, but you'll find an entrance into a Peet's Coffee at the lobby for available wireless access.
Pro tips: The most crowded time of day here is over lunch. It's advisable to get there early enough to secure a table if you plan to work through the mid-day crowd. Also, there are plenty of electric outlets if you're in need of a recharge.
Exterior Spaces
---
A 1985 city law mandates one square foot of public space be made available per 50 square feet of office space or hotels. This has helped generate an extensive range of public open space options for locals and visitors alike.
Here are a few of our favorites: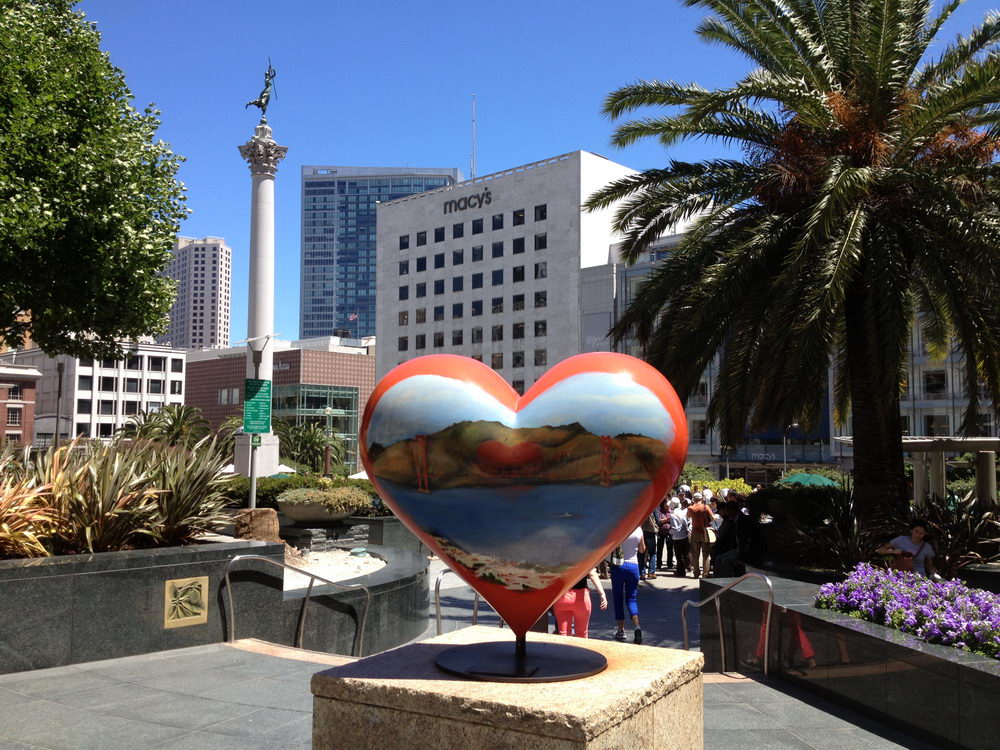 This private, public park area has Wi-Fi, is always open, and offers plenty of seating. In addition, you'll find a number of famous works of art, including "Love" by Laura Kimpton and the beloved 1969 fountain by Ruth Asawa.
This sixth-floor space comes with excellent views of FiDi, plenty of space for meetings, and a large metal art installation.
343 Sansome Rooftop Deck
The 15th floor of this iconic rooftop garden has been unofficially referred to as FiDi's best outdoor lunch spots. It's also well known for great views of FiDi, the Transamerica Pyramid, and the bay. Given it's one of the rare POPOS that you can't see from the street, you'll only encounter the select few people who actively seek out the location.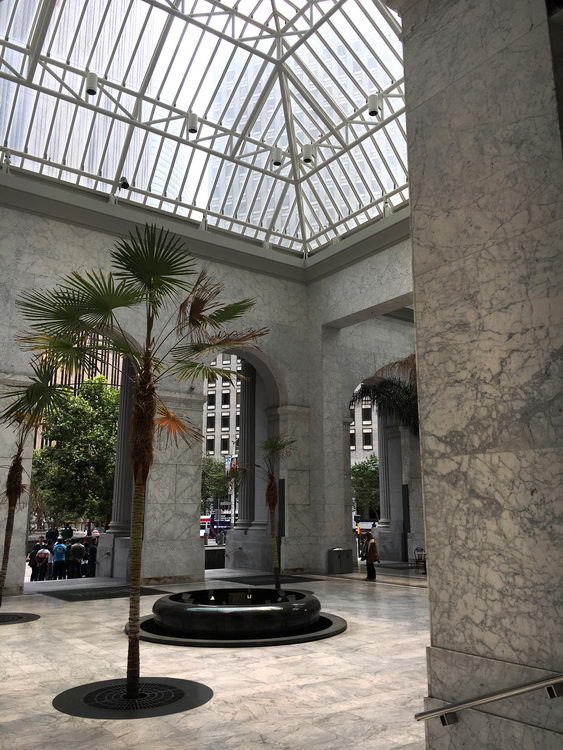 This well-preserved white marble atrium is in the ground floor of the former Paris-London Bank building. Although many San Franciscans will tell you the best time to visit is during the holidays, It's nice and cool in summer, and you'll find over a dozen tall, queen palm trees, and a crepe stand for a quick bite.
This hidden POPOS is a unique find, cozily accessible through an entryway on Front Street or via the building lobby. There are a number of one-of-a-kind fountains and a café nearby for refreshments.
Located at the corner of Kearny Street and Commercial Street, this quiet oasis on the edge of the FiDi offers plenty of seating, greenery, and a fountain.
Honorable Mentions
---
According to its website, Workshop Café is "building art-infused, energy-packed and ultra-comfy spaces." This FiDi staple recently opened a second location in SOMA. Both offer a space that's open to the public with a variety of café fare. In addition, you can rent a workspace by the hour as needed, no membership required. Cost ranges from $3 per person to over $10 for small groups.
Pro tips: Unlike the majority of public workspaces in San Francisco, Workshop Café is open Saturday and Sundays. They also offer 10-person conference rooms for rent, complete with a whiteboard, 60" screen and Apple TV.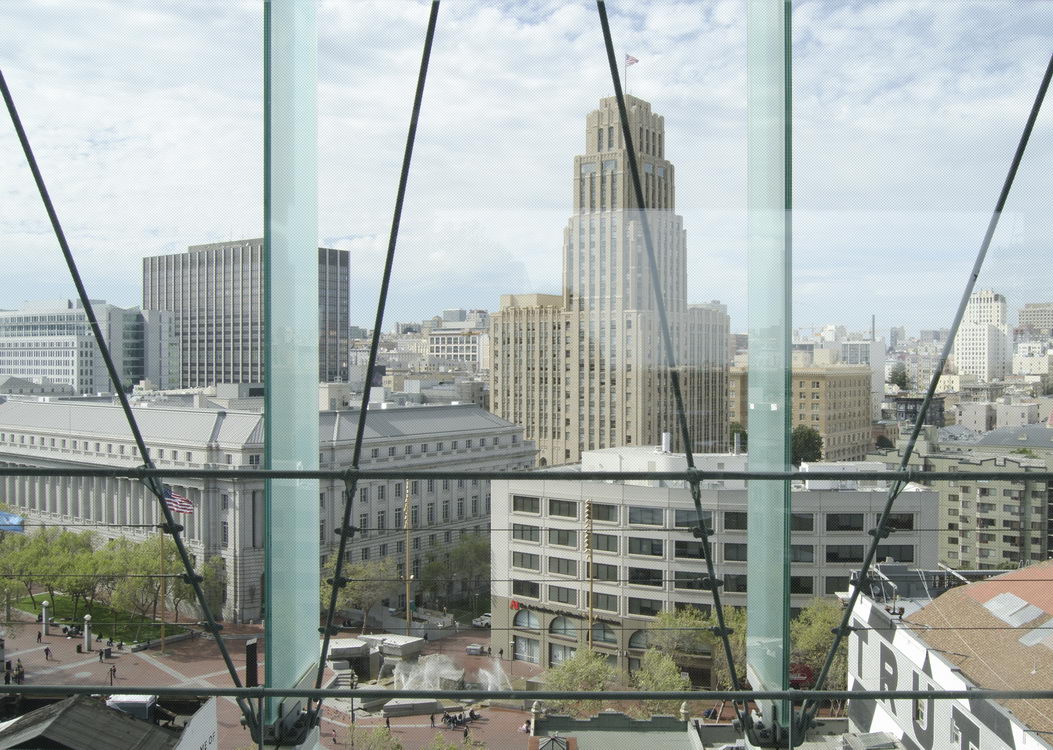 Photo courtesy of Edward H. Blake
This lesser-known location features a three-story public open space with tables, chairs, and excellent views of the city. The main floor is #12, but the space spans #11 and #13 as well. This made our Honorable Mention list as it requires going through a metal detector to gain access.
Pro tips: This is likely the quietest, most private public workspace you'll find in the city. If you're looking for an area with many occupants, this isn't for you. Interestingly enough, there's even a ping pong table for you help get your creative energy flowing.