Best Places in the Bay Area to Watch Fireworks 2017
June 29th, 2017
If you're looking to snag a seat under the stars this 4th of July, you're in luck. We've compiled a list of the best places in the Bay Area to watch some epic firework displays – so grab a blanket, some friends, and maybe your booze, and have a fun (and safe!) holiday.
Best Firework Spots in San Francisco
San Francisco Waterfront:


Where better to watch the fireworks than at the Waterfront Celebration? They begin at 9:30 pm and some favorite places to catch the action include Marina Green, Ghirardelli Square, and Crissy Field. Live music will be played throughout the day.
Pier 39, Aquatic Park, and Ghirardelli Square

San Francisco Art Institute


The roof terrace at the San Francisco Art Institute is a great place to watch the sky light up with fiery art displays.
800 Chestnut Street (between Jones and Leavenworth)

Treasure Island


If you're on the lookout for a different angle to view the fireworks, Treasure Island offers great panoramic views of the waterfront.
Avenue of the Palms, Treasure Island

Coit Tower


Enjoy some delicious Italian fare in North Beach, then burn off those calories by hiking up to Coit Tower. Get there early and claim a prime spot along the retaining wall.
1 Telegraph Hill Blvd, San Francisco

Lincoln Park


The eastern end of the Land's End Trail will bring you to Lincoln Park, a cozy grassy spot to set up a blanket and watch fireworks throughout the bay.
300 34th Ave, San Francisco

Tank Hill


A little unknown, as this small park isn't well marked on many maps, Tank Hill offers great views of the city. Bring some camp chairs and beverages and enjoy the show atop the concrete cylinder which is all that remains of the old water tank that was once here.
Near Clarendon Ave. & Twin Peaks Blvd., San Francisco
Best Firework Spots in the East Bay
Indian Rock


Not so much as an event as a nice spot with sweeping views of the bay. You'll need to be sure-footed to find this spot as it requires a climb up the 11-million-year-old volcanic formation in Berkeley Public Park. This location offers great views of all three bridges.
950 Indian Rock Ave, Northeast Berkeley

USS Hornet's 4th of July Celebration


You probably can't BYOB to this one since it's more of a family-friendly event, but you can catch live music, explore a ship, and purchase a wide variety of food and beverages.

Berkeley Marina


The Berkeley Marina is hosting a wide range of free events for the 4th. There will be live entertainment, food, and more. Fireworks begin at the end of the pier at 9:35 PM. Take note, this is an alcohol-free event, but admission is free.
201 University Ave, Berkeley

Oakland Coliseum, Oakland A's vs. Chicago White Sox (July 3rd)


What's more American than baseball? Take in a ballgame then stick around for the fireworks. This is for the game on the 3rd, but after the final out fans will be allowed to sit in the outfield grass to watch the show (on-field seating is limited).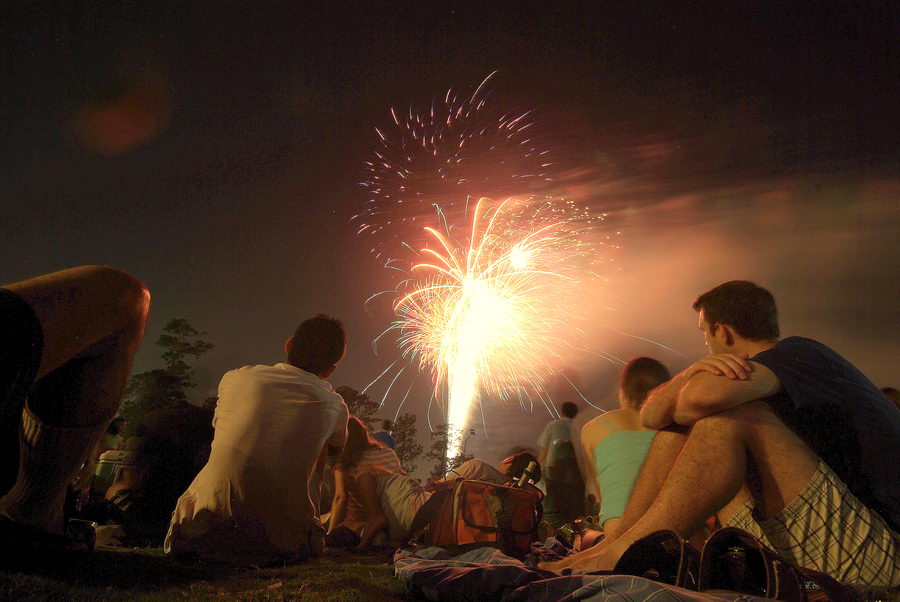 Photo courtesy of Adam Baker
Best Firework Spots in the North Bay
Marin Headlands


Just over the Golden Gate Bridge is a great spot for viewing fireworks, as long as the fog stays away. From this spot, you can see fireworks from San Francisco, Alameda, Richmond, and beyond. There are usually pull-outs to stop and watch the show, but check on this early because this winter's rain closed many of these due to potential landslides. Also, be prepared to bring your own snacks and beverages as there are no vendors here.
Conzelman Road, above Kirby Cove in Sausalito

Point Tiburon


If you want some great sea-level views of the Golden Gate bridge, Blackie's Pasture on Paradise Drive is a great viewing spot. This area is often not as crowded as other spots, but you should still arrive early to claim a prime spot.
Paradise Drive, Tiburon
Best Firework Spots in the South Bay
Shoreline Amphitheater


This event does require tickets but it's a great light show combined with the sounds of the San Francisco Symphony.

Shoreline Lake


For those that didn't snag tickets, or simply didn't want to spend the cash, the Shoreline Lake allows you to catch the Shoreline Amphitheatre fireworks from outside the venue. You can even grab a rowboat or kayak to watch the show from the water.
3160 N. Shoreline Blvd, Mountain View
Make your plans early and allow plenty of time for the extra traffic, before and after.