Resident Referral Program
What Better Time to Have Your Friends As Neighbors?
Do you have a friend looking for a new apartment? Current residents have the opportunity to earn up to $1,000* in rent credit PER REFERRAL with our Resident Referral Program! Simply refer a friend, colleague or family member to any RentSFNow apartment and receive a rent credit when they sign a new lease and move in.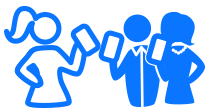 Every Referral
Up to $1,000 Rent Credit
Every referral after is another rent credit!
Submit Your Referral
Form must be received prior to referral touring an apartment.
---
* Qualification Information
Current residents will receive a $1,000 rent credit for all referrals to units with a monthly rent of $8,000 or higher. Referrals to units with a monthly rent of $7,999 or lower will receive a $500 rent credit per referral.
Referral contact information must be received via the referral form above prior to being assigned to a leasing agent touring an apartment.
Referrer must be a current resident residing in a GreenTree managed building and in good standing to receive a referral credit. Referrals cannot be honored for residents moving out. You must be an active resident at the time of referee move-in.
New lease signees, who have not yet moved in to a GreenTree managed building, are eligible for referral program; however, credits will be paid after first full month of rent payment is made.
The Referrer must be named as a leaseholder.
Residents who break their lease, forgo the referral credits and will be required to repay any credits received.
Only one referral credit is given per lease.
Referral credits are processed 2 weeks after referee moves in and takes possession of the apartment.
Referral leases must be signed by December 31, 2023.